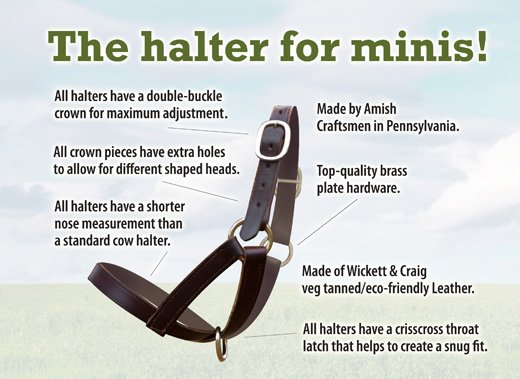 ________________________________
More information on Mini Cow Halter Fit

Our halters are made to fit! We have completed months of research to create the best-fitting Mini Cow halters. We realize that there are many different breeds and the shapes and sizes of these breeds vary. So we have designed a halter that is adjustable in all the right places and has essential features that ensure a proper fit.

1. All halters have a double buckle crown for maximum adjustment.

2. All crown pieces have extra holes to allow for different shaped heads.
3. All halters have a crisscross throat latch that helps to create a snug fit.
4. All halters have a shorter nose measurement than a standard cow halter**.
**This is the most common complaint that we hear about fitting a regular cow halter to a Mini Cow. The only option, in the past, has been to buy regular-sized calf or cow halter. Even if you buy a regular calf halter, the noseband is always too big for your Mini. The great news is that you can now buy a halter that is made just for Minis!
In addition to the great fit, all of our halters are made by Amish Craftsmen in Pennsylvania. We use Wickett & Craig Leather for all of our leather products. This very supple bridle leather is veg-tanned and eco-friendly. All halters are made using top quality brass plate hardware.

Please note our show halters are a different design. If you ever have any halter questions please e mail us at info@minicattlesupply.com
Here is Daisy, our mid-sized heifer, sporting the Leather Turnout Halter in size 4.